Assam University is a Central University, located in Silchar (Assam). This University was established in the year 1994 by an Act of Parliament after enactment of the Assam (Central) University Act 1989. Accridiated by NAAC and Approved by UGC (University Grants Commission) & Government of India. Campus is Spread Over 600 Acres. The main campus is situated at Dargakona, about 20 kms away from Silchar and The other campus of the university is situated at Diphu in the district of Karbi Anglong, Assam.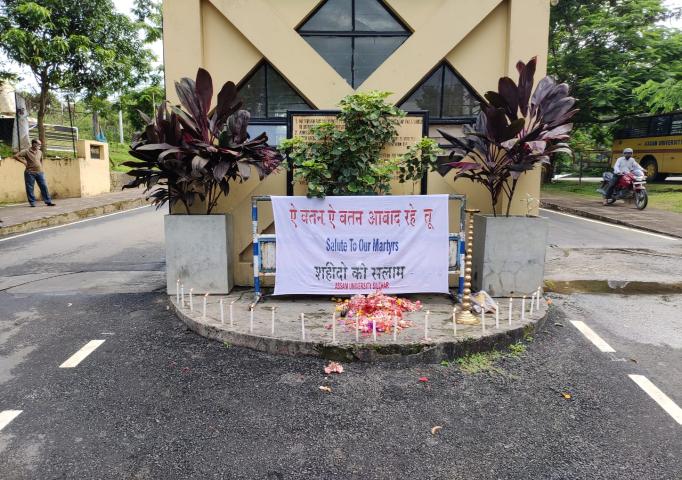 Motto :
" प्रत्यबोधकृतिरुपपत्य "
Facilities :
Library, Laboratory, Canteen, Hostel, Indoor & Outdoor Sports, Play Ground, Computer Center, Health Center, Conference Hall, Seminar Hall, Common Hall, Transportation, Wifi, Etc.

Schools & Departments :
1) Rabindranath Tagore School -
Linguistics, Bengali, Hindi, Manipuri, Sanskrit, Urdu, Indian Comparative Literature
2) Suniti Kumar Chattopadhyay School -
English, Arabic, French
3) Mahatma Gandhi School -
Economics, Commerce
4) Jadunath Sarkar School -
Political Science, History, Social Work, Socialogy
5) Abanindranath Tagore School -
Mass Communication, Visual Arts, Performing Arts
6) Sarvepalli Radhakrishnan School -
Philosophy
7) Albert Einstein School -
Physics, Chemistry, Mathematics, Computer Science, Statistics
8) Hargobind Khurana School -
Life Science & Bioinformatics, Microbiology, Biotechnology
9) Jawaharlal Nehru School -
Business Administration, Hospitality and Tourism Management
10) E P Odum School -
Ecology Environmental Science
11) Triguna Sen School -
Agricultural Engineering, Computer Science And Engineering, Electronic And Communication Engineering, Applied Science and Humanities
12) Susruta School -
Pharmaceutical Science
13) Arayabhatt School -
Earth Science
14) Swami Vivekanand School -
Library and Information Science
15) Deshabandhu Chittranajan School -
Law
16) Ashutosh Mukhopadhayay School -
Educational Science
Most Spoken Languages :
Hindi, English, Assamese, Bengali, Etc.
Rankings :
NIRF 2021- 93rd Position in University Category.
Affiliated Colleges :
1) A L Choudhury College, Hailakandi (Assam)
2) Cachar College, Cachar (Assam)
3) Diphu Government College, Karbi Anglong (Assam)
4) Eastern Karbi Anglong College, Karbi Anglong (Assam)
5) Gurucharan College, Cachar (Assam)
6) Halflong Government College, North Cachar Hills (Assam)
7) Karimganj College, Karimganj (Assam)
8) Lala Rural College, Cachar (Assam)
9) M.C Das College, Cachar (Assam)
10) Maibang Degree College, N.C Hills (Assam)
11) Moinul Hoque Choudhury Memorial Science College, Hailakandi (Assam)
12) Nabinchandra College, Karimganj (Assam)
13) Nehru College, Cachar (Assam)
14) Nilambazar College, Karimganj (Assam)
15) Patharkandi College, Karimganj (Assam)
16) Pranab Jubilee College, Karbi Anglong (Assam)
17) Rabindrasashan Girl's College, Karimganj (Assam)
18) Radhamadhab College, Cachar (Assam)
19) Ramkrishanagar College, Karimganj (Assam)
20) Rukasen College, Karbi Anglong (Assam)
21) S K Roy College, Hailakandi (Assam)
22) S S College, Cachar (Assam)
23) Teacher's Training College, Cachar (Assam)
24) Thong Nokbe College, Karbi Anglong (Assam)
25) West Silchar College, Cachar (Assam)
26) Women's College, Cachar (Assam)