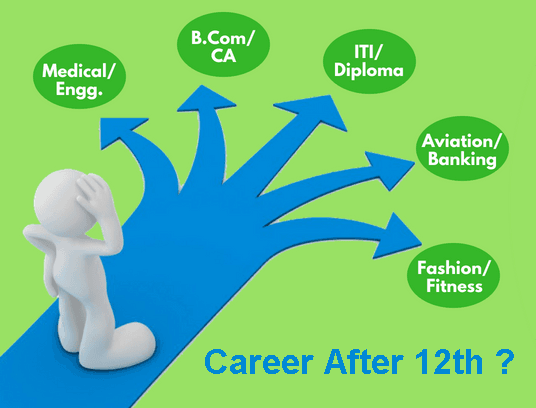 Career After 12th
Career After 12th Science After completing 12th with science stream, there are various options available for an undergraduate course. Students who have an interest in technical learning, they can choose engineering courses and the rest can choose from the courses listed below.
Science
B.Sc.- Physics

B.Sc. Chemistry

B.Sc. Mathematics

B.Sc-Nursing

B Pharma- Bachelor of Pharmacy

MBBS

B.Sc- Interior Design

BDS- Bachelor of Dental Surgery

Animation

Graphics and Multimedia

B.Sc.Nutrition & Dietetics

BPT- Bachelor of Physiotherapy

B.Sc- Applied Geology

BA/B.Sc. Liberal Arts

BE/B.Tech- Bachelor of Technology

B.Arch- Bachelor of Architecture

BCA- Bachelor of Computer Applications

B.Sc.- Information Technology
Arts
Students who think that if they choose Arts Stream, they will have less career opportunities than science and commerce, but after completing 12th from arts, there are different courses which will provide you good career opportunities.
BA in History

BA in Geography

BA in Economic

BA in English

BA in Hindi

BA in Music

BA in Social Science

BA in Sociology

BBA- Bachelor of Business Administration

BMS- Bachelor of Management Science

BFD- Bachelor of Fashion Designing

BSW- Bachelor of Social Work

BFA- Bachelor of Fine Arts

BEM- Bachelor of Event Management

Integrated Law Course- BA + LL.B

BJMC- Bachelor of Journalism and Mass Communication

BBS- Bachelor of Business Studies
BTTM- Bachelor of Travel and Tourism Management



Aviation Courses




B.Sc- Interior Design

B.Sc.- Hospitality and Hotel Administration

Bachelor of Design (B. Design)

Bachelor of Performing Arts




Commerce



Students who want to learn about financial and management, can opt commerce stream after 10th. For commerce students, mathematics is an optional subject, thus students who have an interest in mathematics but do not want to go with science stream can take commerce with math.



B.Com- Bachelor of Commerce

BBA- Bachelor of Business Administration

B.Com (Hons.)

BA (Hons.) in Economics

Integrated Law Program- B.Com LL.B

Integrated Law Program- BBA LL.B


Professional courses
Apart from courses under Science, Commerce and Arts, there is also a list of professional courses to pursue after 12th.
CA- Chartered Accountancy

CS- Company Secretary

Bachelor of Design in Accessory Design

Fashion Design

Ceramic Design

Leather Design

Graphic Design

Industrial Design

Jewellery Design

Bachelor in Foreign Language

Diploma Courses

Advanced Diploma Courses

Certificate Courses
Jobs After 12th
SSC Combined Higher Secondary Level (SSC CHSL)

Upper Division Clerk (UDC)

Lower Division Clerk (LDC)

Postal Assistant (PA)

Data Entry Operator (DEO)

Sorting Assistant (SA)

SSC Multi Tasking Staff (SSC MTS)

SSC Grade C and Grade D Stenographer

All India Entrance Exam NDA for Armed Forces (National Defence Academy)

RRB Assistant Loco Pilot (RRB ALP)

Indian Army

Exam for the post of Technical Entry Scheme,

Mahila Constables

Soldiers

Junior Commissioned Officers for Catering

Indian Navy Exam for the post of Sailor

Artificer Apprentice and Senior Secondary Recruits (SSR)

Security Forces

Border Security Force (BSF)

Central Reserve Police Force (CRPF)

Sashastra Seema Bal (SSB)

Indo-Tibetan Border Police Force (ITBP)

Central Industrial Security Force (CISF)

Assistant Loco Pilot: Assistant Loco Pilot

Railway Clerks

Railway Constables

UPSC CAPF