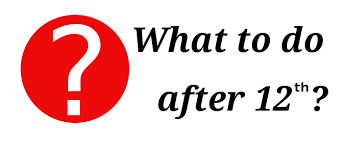 Career After 12th
What after 12th ?...
Before this we have to know "What is class 12th".
12th i.e.HSC (Higher Secondary Certificate) is a public examination.Conducted by educational examination board (ICSE, CBSE, State Board, State Open Board, NIOS...) of India.
Here we have list of some courses which will help you to achieve your goal..
TRADITIONAL COURSES
1. B.Sc (Bachelor of Science) ·
Math's Hons ·
Physics Hons ·
Chemistry Hons ·
Botany Hons ·
Zoology Hons
2. BA (Bachelor of Arts)
History Hons
Geography Hons
Economics Hons
Political Science Hons
English Hons
Hindi Hons
Sanskrit Hons
Urdu Hons
Psychology Hons
Sociology Hons
Music Hons.E.t.c..
3) B.Com (Bachelor of Commerce) ·
Accountancy. ·
Cost Account. ·
Statistics. ·
Finance
Engineering
· Civil Engineering ·
Mechanical Engineering ·
Electrical Engineering ·
Electrical & Electronics Engineering ·
Electronics & Communication Engineering ·
Computer Science and Engineering ·
Biotechnology ·
Electronics & Instrumentation Engineering ·
Information Technology ·
Automobile Engineering ·
Aeronautical Engineering ·
Architectural Engineering or Architecture ·
Agricultural Engineering ·
Petroleum Engineering
Food Technology ·
Textile Engineering ·
Chemical Engineering ·
Biochemical Engineering ·
Aerospace Engineering ·
Industrial Engineering ·
Manufacturing Engineering ·
Material Engineering ·
Genetic Engineering ·
Marine Engineering ·
Mining Engineering
MEDICAL·
M. B. B. S. (Bachelor of Medicine and Bachelor of Surgery) – 5.5 years ·
B. D. S. (Bachelor of Dental Surgery) – 4 years ·
B. H. M. S. (Bachelor of Homeopathic Medicine & Surgery) – 5.5 years ·
B. A. M. S. (Bachelor of Ayurvedic Medicine and Surgery) – 5.5 years ·
B.U.M.S (Unani Medicine) – 5.5 years ·
Bachelor of Veterinary Science & Animal Husbandry (B.VSc AH) · ·
Pharmacy Courses·
a) B.Pharma
1.Bachelor of Pharmacy (B.Pharma) – 4 years
2.Bachelor of Pharmacy (B.Pharma) Lateral Entry – 3 years
3.Pharma (Hons.) – 4 years
4.Bachelor of Pharmacy (Ayurveda) – 4 years
b) D.Pharma
Paramedical Courses
1.Bachelor of Radiation Technology
2.Bachelor of Physiotherapy
3.Bachelor of Occupational Therapy
4.B.Sc. Nursing
5.B.Sc. in Dialysis Therapy
6.B.Sc. Medical Lab Technology
7.B.Sc. in Optometry
8.B.Sc. in X-Ray Technology
9.Bachelor of Ayurvedic Medicine and Surgery (BAMS)
10. B.Sc. in Nuclear Medicine Technology
11.B.Sc. in Operation Theater Technology
12.B.Sc. in Medical Record Technology
13.B.Sc. in Medical Imaging Technology
14.B.Sc. in Anesthesia Technology ·
Diploma Paramedical Courses
1.Diploma in OT Technician
2.Diploma in Rural Health Care
3.GNM
4.ANM
5.Diploma in Dental Hygienist
6.Diploma in Occupational Therapy
7.Diploma in Dialysis Technology
8.Diploma in X-Ray Technology
9.Diploma in Nursing Care Assistant
10.Diploma in Physiotherapy
Agriculture
1.Bachelor of Science in Agriculture
2.Bachelor of Science (Honors) in Agriculture
3. Bachelor of Science in Crop Physiology
Management Courses·
Bachelor of Business Administration- (BBA-3Yr)·


1.BBA Hospitality and Hotel Management
2.BBA Human Resource
3.BBA Finance
4.BBA Foreign Trade
5.BBA Marketing
6.BBA in Banking and Insurance
7.BBA Information Technology
8.BBA Communication and Media Management
9.BBA Hospital and Healthcare Management
Professional Courses
Designing - Fashion/Interior/Web
Mass-communication/Journalism
Law (BA LLB-5 Yr)